Wawanesa Auto Insurance Review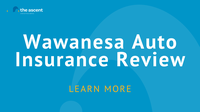 Pricing
Premium costs vary widely depending on the motorist's vehicle and driving history. Wawanesa keeps premiums more affordable by only insuring good drivers (those who have had no more than one violation point or more than one at-fault accident in the last three years). This means that not all drivers will be eligible for a quote.
Discounts
Wawanesa offers several industry standard discounts. Oregon drivers have more discount options than California drivers. Depending on your state, you may be able to get discounts for being a good driver, insuring multiple cars on one policy, or being a loyal insured. The longer you stay with Wawanesa, the bigger your discount. Their website details how to qualify for each discount.
Advantages
Wawanesa can offer cheaper rates for drivers in California and Oregon since they only insure good drivers. Good Oregon drivers can save the most with Wawanesa's auto insurance discounts and customer appreciation discounts.
Customer service
Wawanesa has received the highest score in California in the JD Power Auto Insurance study for two consecutive years (2021 and 2020). The study measured overall customer satisfaction in terms of claims, coverage, pricing and more.