Automobile insurance market concentration is increasing; GEICO, Progressive expected to pass State Farm in 2023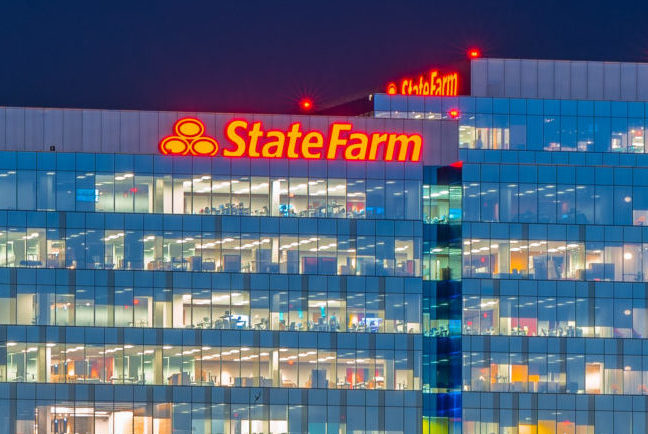 Personal auto insurance continues to evolve into a "more concentrated" market, with the top 10 insurers controlling 76% of the market at the end of 2021, Fitch Ratings said in its recent "US Personal Lines Market Update."
State Farm, the largest auto insurer in the United States, saw no growth in premiums, reducing its market share to 16.4% based on net written premiums. However, GEICO and Progressive "grew revenue faster than the broader market," climbing to 14.7% and 14.1% shares, respectively.
Given premium growth rates over the past three to five years, Fitch predicts that GEICO and Progressive will overtake State Farm in market share in 2023. [Progressive] recently signaled faster auto-growth," the report, based on data from S&P Global Market Intelligence, states.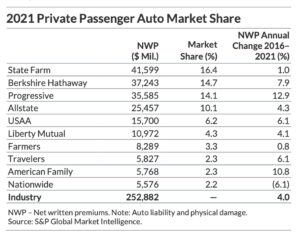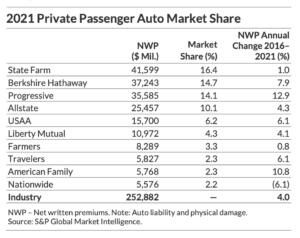 The report did not offer any analysis of the evolution of the carriers' market shares.
At an annual shareholder meeting in May, Ajit Jain, vice president of insurance operations at Berkshire Hathaway, GEICO's parent company, noted that Progressive is far ahead of GEICO in the use of telematics.
"There's no doubt that Progressive has recently done a much better job than GEICO…both in terms of margins and in terms of growth," Jain said, according to an Investopedia article. "There are a number of causes for this, but I think the biggest culprit is when it comes to GEICO…it's telematics."
Forbes reports that Jain "expects to catch up with Progressive in a year or two." And the Insurance Journal quoted Jain as saying, "Progressive has been on the telematics bandwagon for, I don't know, more than 10 years, 20 years. Until recently, GEICO was not involved in telematics. It's only been two years since we made a very serious effort in terms of using telematics for segmentation and trying to match rate and risk.
Auto insurers face continued losses
The combined ratio (CR), the number of dollars paid in claims divided by the number of dollars in premiums earned, for auto insurers deteriorated "sharply" to 101.4% in 2021, Fitch said.
In the pandemic year of 2020, stay-at-home orders significantly reduced the number of miles traveled, leading to a CR of 92.5% for car insurers, "the best result for at least 25 years", indicates the report.
Since then, there has been a significant escalation in the severity of claims due to rising inflation and supply chain shortages, "particularly in physical damage cover".
"While 2021 results were expected to deteriorate as driving activity and claims frequency approached historic norms following an unusual pandemic-related experience, the CR segment rose more strongly by 9 points to more of 101% for the year," the report said.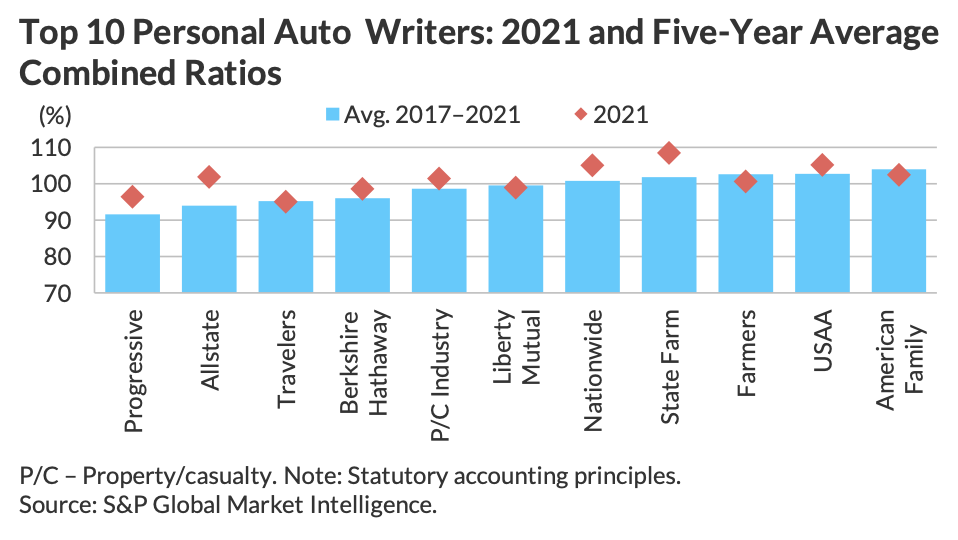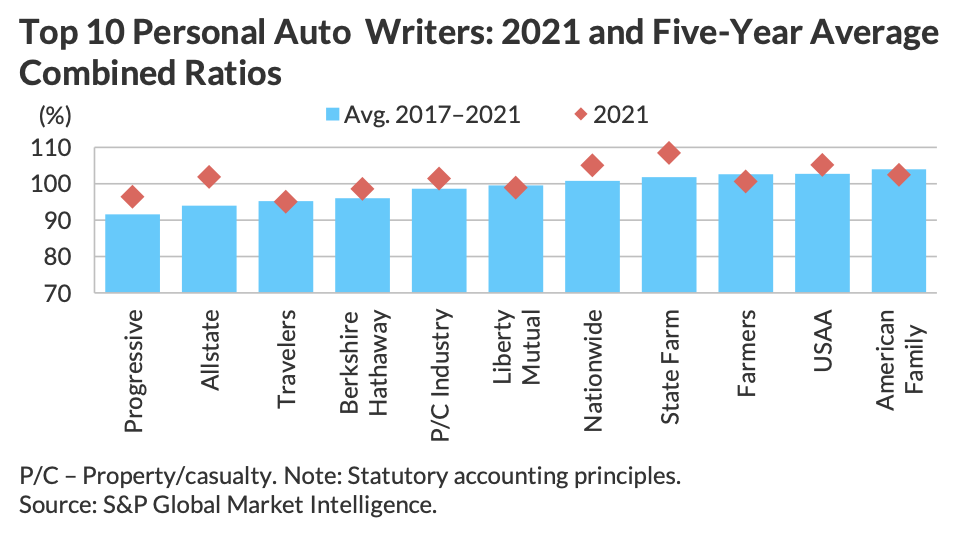 According to Fitch, Progressive, GEICO, Liberty Mutual and Travelers were the only auto insurers in the top 10 to post combined ratios below 100 last year.
Although carriers have moved to adjust pricing and subscription, "improvement may be slow to materialize," Fitch said. "Statutory direct loss ratios remain high for motor third party liability, but motor physical damage direct loss ratios reached a 20-year high of approximately 77% in the last three quarters ending 1Q22."
"Rates will need to move further in the near term to match loss cost trends that are likely to remain above historical norms. Regulatory and political factors in several key states, including California, could prevent a faster return to the price adequacy," the report said.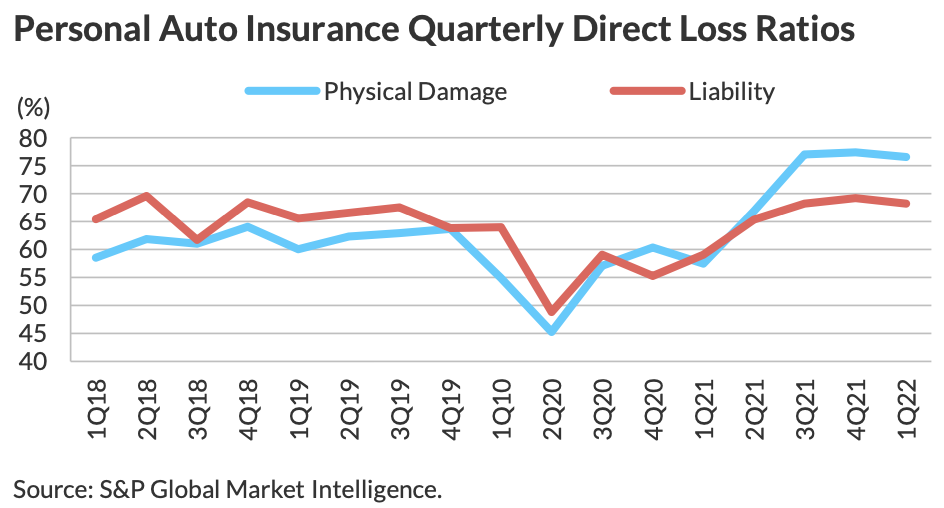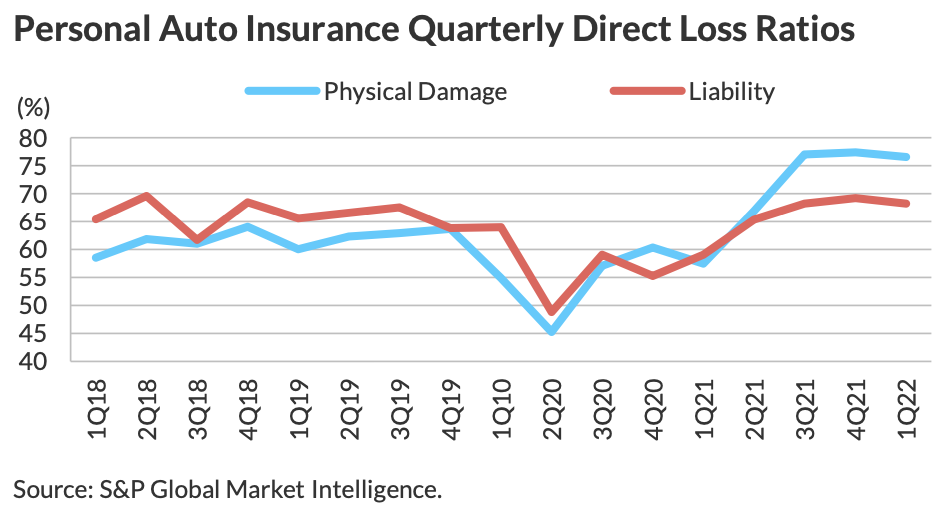 The frequency of auto claims has not fully returned to pre-pandemic levels, but the severity has increased "significantly higher" in bodily injury, collision and physical damage coverage, Fitch said. He said the causes were "higher inflation, supply chain issues, tighter labor markets and ever higher litigation costs".
In particular, the traditionally stable physical damage segment showed "wider volatility", with CR falling from 89% in 2020 to 104% in 2021 – "the segment's worst result in 20 years".
Trend towards computing, analytics
Advanced computing and analytics represent a way for carriers to increase operational efficiency, improve customer experience and improve risk assessment and pricing, according to the study.
Fitch argued that many consumers are increasingly accepting the use of telematics in auto insurance, providing carriers with the opportunity for "more optimal and faster claims settlement."
"The pandemic has fostered greater virtual interaction between policyholders and insurers. Investments in technology provide auto insurers with ongoing opportunities to gain operational efficiencies and improve underwriting and claims decision-making capabilities," the study states. "The insights and benefits of scale offer the largest auto insurers the best chance to leverage these investments for growth and operational success."
Fitch said access to "unstructured third-party data" to assess driving behavior can help carriers better differentiate risk and set prices accordingly. He noted that drivers' acceptance of using telematics to assess driving behavior has accelerated during the pandemic, giving carriers "an abundance of information" to use.
He also said policyholders have "become more comfortable" with interacting with carriers virtually during the pandemic, though analysts, such as LexisNexis, have pointed out that consumers are frustrated with systems that don't meet their needs. expectations.
More information
Berkshire president notes Progressive is ahead of GEICO with telematics; GEICO sees first-quarter underwriting loss
LexisNexis: Digital Claims Processes Frustrate Consumers; UBI Adoption Remains Low
Pictures
Featured Image: A State Farm office in Arizona. (Gregory Clifford/iStock)
Table and graphs provided by Fitch Ratings
Share this:
Related