Man in custody after brief chase, collision with patrol vehicles | News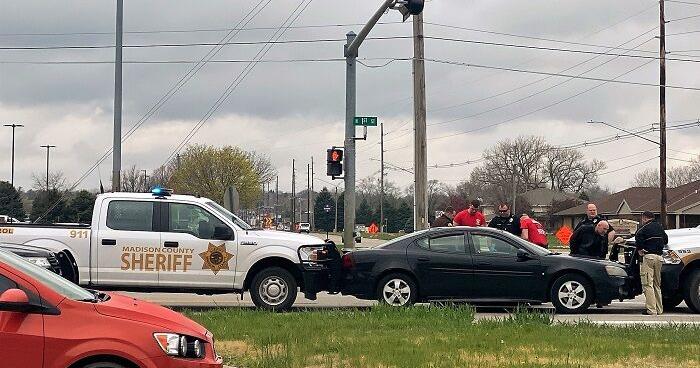 A man is in custody after leading law enforcement in a Friday morning chase that ended in northeast Norfolk.
At around 10.30am, law enforcement received a report that a man who may be suffering from mental illness had left a residence in west Norfolk as a community services worker attempted to carry out a social assistance verification.
The man left in a vehicle and was found shortly after by law enforcement. A traffic stop was attempted, but the man apparently refused to stop and led authorities on a chase through North and East Norfolk.
The Madison County Sheriff's Office, Nebraska State Patrol, and Stanton County Sheriff's Office were all notified of the pursuit by the Norfolk Police Division, which eventually proceeded to First Street in Norfolk Ave.
The suspect drove north on First Street, where his Pontiac Grand Prix was surrounded by several patrol vehicles. Madison County Sheriff Todd Volk said the driver appeared to intentionally ram his vehicle into several patrol vehicles after being surrounded. Madison and Stanton county patrol units suffered minor damage, he said.
Volk said proper techniques were used to stop the man and remove any danger to other drivers. The sheriff said the subject's name is unlikely to be released by law enforcement due to the mental health elements of the incident.
The suspect was transported to Faith Regional Health Services by Norfolk Rescue after a Taser was deployed.
A witness near First Street and Benjamin Avenue told the Daily News he heard a loud boom shortly before 11 a.m. The witness said he looked towards the scene and saw law enforcement officers surrounding the suspect vehicle.
A second witness said he saw several patrol vehicles speeding down Benjamin Avenue before the chase ended.
Stanton County Sheriff Mike Unger, when reached by phone, said he was in Norfolk delivering food to a sick person when he heard of a lawsuit looming. headed for Stanton County from Norfolk. Unger then began driving towards Stanton County, which is when he contacted a duty assistant who told him the chase was heading towards Norfolk.
Unger was at the intersection of First Street and Benjamin Avenue, he said, when he saw the overhead lights of law enforcement vehicles pursuing a northbound vehicle on First Street. .
Unger then stopped his vehicle at the intersection to try to stop the suspect from continuing north. The suspect's vehicle was then cornered by multiple agencies, Unger said, but the suspect's vehicle continued to accelerate, colliding with two patrol vehicles.
"I was just in the right place at the right time," Unger said.