One dead and three injured in early morning crash near Airport Road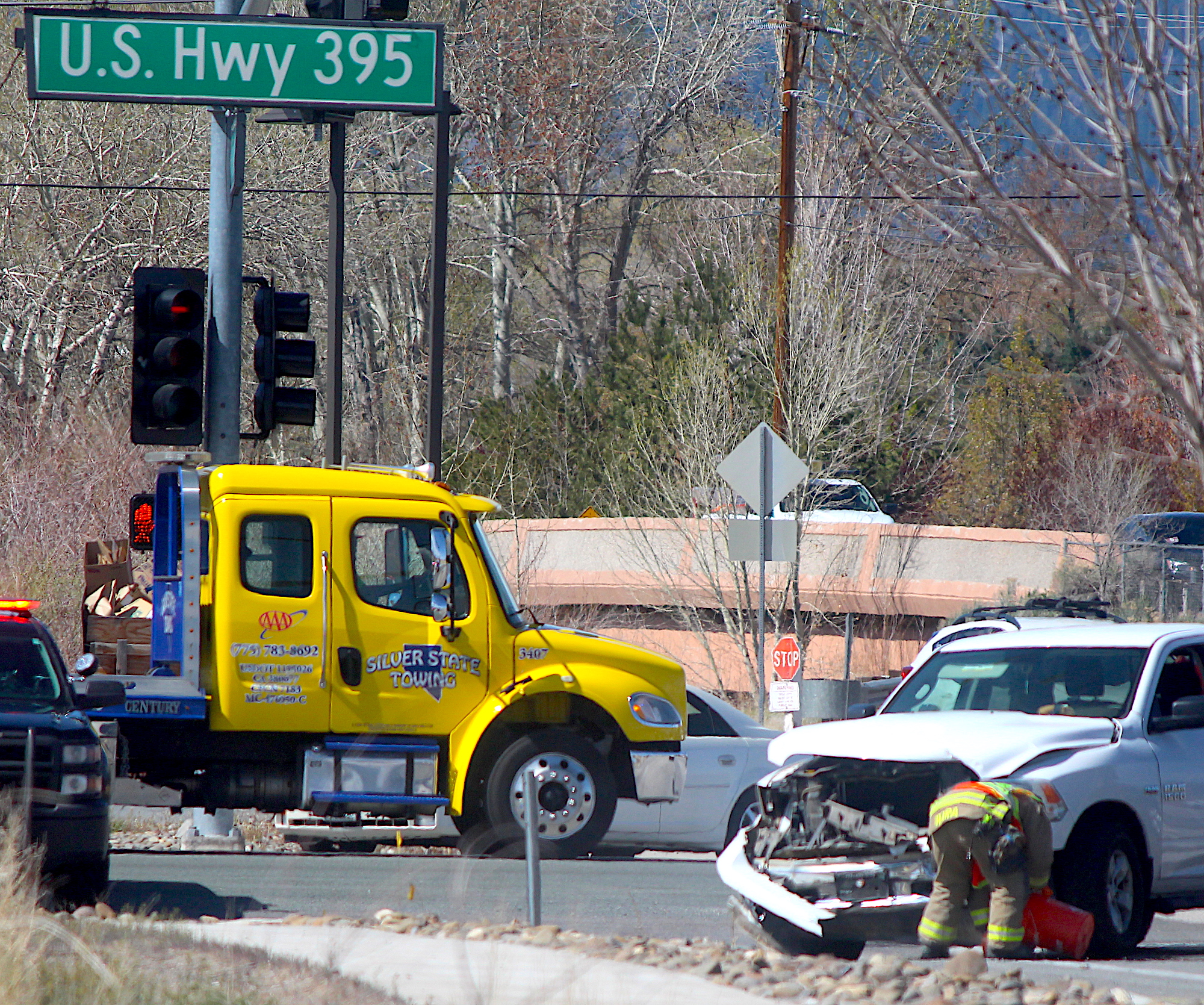 An East Fork firefighter returns a Dodge pickup truck involved in a collision to safety around 10:40 a.m. Saturday in Riverview and on Highway 395. An earlier crash on the highway near Airport Road left one person dead.
One person was killed and three others seriously injured in a crash at 4:05 a.m. Saturday on Highway 395 near Airport Road north of Minden.
East Fork firefighters arrived at the scene of the collision between two vehicles to find one with a small fire in the engine compartment and both with extensive damage.
Firefighters had to employ the jaws of life to cut victims both in the vehicle and to contain the fire.
The Care Flight helicopter ambulance landed at the scene to transport one of the most seriously injured from the collision, while a second Care Flight helicopter met a ground ambulance carrying a second. Three people were transported from the collision.
"Any scene with multiple extrications can be tough and the guys did a great job on this one," Battalion Commander Troy Valenzuela said Saturday afternoon.
Three East Fork engines and two ambulances responded to the collision, along with Douglas County deputies.
The collision is being investigated by Nevada State Police.
Northbound lanes of Highway 395 reopened around 8 a.m.
The identity of the person killed in the crash has not been released.
A second crash rumbled down Highway 395 in Riverview around 10:30 a.m. Saturday, but no one was transported.
The collision involved a BMW sport utility vehicle and a Dodge pickup truck, and closed Muller Parkway while the wreckage was cleared.
A reported collision in Waterloo near the Douglas County Community Center around lunchtime turned out to be a cardiac arrest. The patient was transported to Carson Valley Medical Center.