PKL 9: Puneri Paltan records comprehensive victory against Dabang Delhi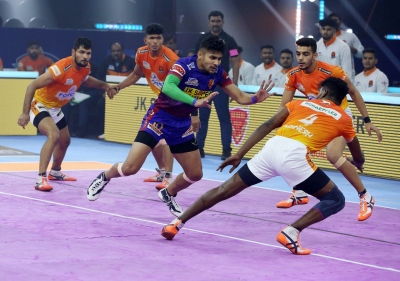 Pune, Nov 1 Puneri Paltan recorded a comprehensive 43-38 win over Dabang Delhi on Tuesday in front of a packed Shree Shivchhatrapati Sports Complex.
Akash Shinde and Mohit Goyat both picked up 13 points in a super performance while Fazel Atrachali's impeccable defense saw the home side condemn Delhi to a fifth straight loss.
After trading a pair of empty raids, in a DO-OR-DIE raid, Mohit Goyat put the Pune crowd on their feet, with a SUPER RAID to hit Krishan, Anil Kumar, Vijay Kumar, who put the Paltans in the lead. That raid alone set the tone for the majority of the half, as Paltan raged against a porous Delhi defense with low confidence. The first ALL OUT came in the opening five minutes as Pune extended their lead to 10-3.
Despite slow resistance in Delhi, Paltan got a second ALL OUT to take a huge lead and seemingly stalled the game. Dabang Delhi were out of form and, with the crowd firmly behind the home side, stared them down completely. Slowly though, they regained the lead, with Naveen Kumar finding his feet to catch Fazel Atrachali and Gaurav Khatri to bring them back into the game. They entered the break 23-17 down, but with only two Pune players on the mat.
Delhi closed the gap with an ALL OUT on their side reducing the lead to three points and from there it was too close a game to call off. Akash Shinde's SUPER RAID on Anil Kumar, Vijay Kumar and Ravi Kumar snatched the initiative from Pune. Within minutes though, Delhi's captain and league's top raider Naveen found a SUPER TACKLE out of nowhere to bring Delhi back into the game.
However, Paltan's third ALL OUT gave them a 35-29 lead. Puneri's players kept their cool in key moments to claim victory in front of a raucous home crowd.
Disclaimer: This post was auto-published from an agency feed without any text editing and has not been reviewed by an editor