Save The Children: Launching a Comprehensive Early Childhood Education and Nutrition Program in Sunnyside | Pictures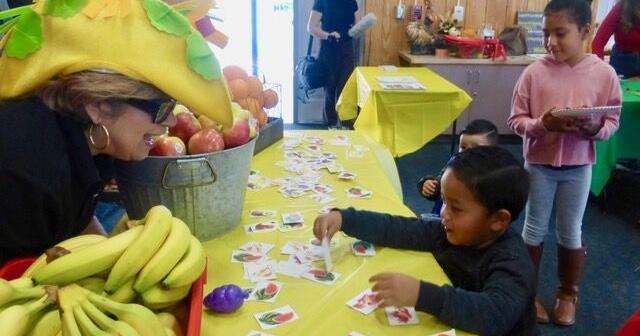 STRATHMORE – "Lucy," a multicolored painted bus parked at Sunnyside West Strathmore Elementary School on Tuesday is a mobile unit sponsored by Save the Children, STC, to serve families, school districts and communities. It's not just a rolling classroom, it's a multi-purpose vehicle, distributing early learning materials, books and food security, Save the Children staff said.
"This is our first event," said Save the Children Prenatal to 5 Coordinator Victoria Rodriguez. "But you will see the mobile unit around Tulare County and Fresno County supporting school districts that partner with Save the Children and their surrounding communities."
They had books to donate to families in the community, as well as a prenatal to 5 year old program for kindergarten readiness with early learning games, crafts and fun activities for young children and their families. In addition to the activities, Save the Children distributed 170 boxes of food to Sunnyside families and the community at large.
"It's such an amazing program. It helps first-time moms and new moms get education, nutrition and health information before their baby arrives," a staff member said. of Save the Children.
"We will provide an early learning experience for parents and their children, and today they will explore topics such as social-emotional learning and early writing skills, problem solving, health and nutrition. They will also read aloud with a Save the Children coordinator," Rodriguez said.
Diana Mata, who was the coordinator of Early Steps Save the Children in Sunnyside for 10 years, explained that the community lacks resources and many people do not have cars.
"School is a resource for them, and the "Lucy" bus is here to stay. It is now part of the Sunnyside Union School District," Mata said.
She spoke to parents and children in the Spanish Kindergarten Readiness class about the bus and the early learning programs that will be sponsored by Save the Children.
Mata later explained that they thought it was a great time to introduce the bus and the programs, as families take a break over Thanksgiving, and the school wanted to make sure it had the learning materials. . Also, the chicken dinner provided was a well balanced meal, as well as the fruits and vegetables given to the families. Mata said she was happy that there were so many families participating in the event.
One of the Kindergarten Readiness games involved having children identify cards with fruit on them and match them. Mata encouraged the children and the parents helped them. They received a fresh apple, banana or orange of their choice after playing the game.
STC was there to support families and children in rural areas, said the many Sunnyside coordinators.
"We're very excited and lucky to have this bus," Anna Bravo said, "We're a little bit further from the community we serve, Plainview, so we can take the school to them.
"We will also share the bus with our other STC colleagues and deliver books, school and food safety resources and other items to Tipton, Farmersville, Kings River in Reedley, Alpaugh, Pleasant View, Alta Vista and Kings Canyon ."
Sunnyside parent Adriana Ambriz said it was great what they were doing for the community. Especially the promotion of reading at the early age level for children.
Ana Guzman and her granddaughter Melissa, 4, had fun during kindergarten readiness class. "It's a great activity, and Melissa is really excited to be here," Guzman said.
Miguel Quijada was there with his son, Israel, 2 years old. He said: "It's really good for the community, and especially teaching us about healthy eating, our children and our diet."
Before distributing food parcels, STC coordinators played a game with families and children at the Kindergarten Readiness event and distributed wrapped Christmas gifts when people answered their questions correctly. .
It was a wonderful afternoon for families and people were happy to go home with gifts and food parcels.
"I think this is a great event for the community, and Diana Mata is a great person to help the people of Plainview and Sunnyside. Being a small school and community, I believe the superintendent and school board are very involved in everything that's going on and it makes a big difference to the community," said Adella Totty, who has worked for the school for 34 years and is now caring for her grandchildren and great-grandchildren. "I stay involved."