Transit police investigate serious vehicle collision killing two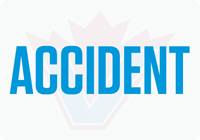 SUBWAY Vancouver Transit Police are investigating a motor vehicle accident that occurred Tuesday, July 26 just after 11 p.m. at the intersection of 10th Avenue and 6th Street in New Westminster.
Police say officers attempted to carry out a traffic stop on a vehicle which then fled at high speed.
Shortly after, the vehicle was located on fire, after colliding with several vehicles. The driver of the fleeing vehicle and the passenger were arrested at the scene.
Two occupants of another vehicle were taken to hospital but have since died of their injuries.
Both suspects remain in custody and charges of Prohibited Driving, Dangerous Operation of a Motor Vehicle Causing Death and Flight from Police are recommended.
Transit Police, with the assistance of the Burnaby RCMP Major Crime Unit, are continuing the investigation.
The British Columbia Office of Independent Investigations has been contacted and transit police say they are working with them as the investigation continues.
If anyone witnessed this incident or has dash cam footage and has not yet spoken to police, please contact Metro Vancouver Transit Police at 604-515 -8300 or by text at 87.7.77.