(Update) US 199 reopens to one-way traffic after collision with large rig and tar spill | Wild Rivers Outpost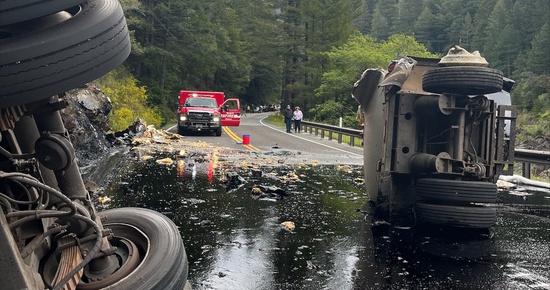 ---
Jessica Cejnar Andrews / Today at 2:19 p.m.

(Update) US 199 reopens to one-way traffic after collision with large rig and tar spill
---
(Updated at 4:18 p.m.)
US 199 reopened to one-way traffic after being shut down for hours as crews from multiple agencies worked to clean up a tar spill after a large rig collided with a utility pole.
Part of the investigation is determining the extent of the spill, according to Gonzalez. The California Department of Fish and Wildlife is still trying to determine if the tar spill spilled into the nearby Smith River, she said.
According to the Six Rivers National Forest, 2,000 gallons of tar were dumped on the roadway. National Forest staff are working with CDFW, Caltrans, Highway Patrol, California Office of Emergency Services and Del Norte Office of Emergency Services to "maximize containment."
According to District 3 Supervisor Chris Howard, the Big Rock Community Services District's water supply system was shut off as a result of the collision. The collision occurred near mile marker 10.5 on US 199, a stretch of freeway that was the site of a resurfacing project after several incidents where people lost control of their vehicles and crashed into the river, Howard said.
---
SHARE →