What is property damage liability auto insurance?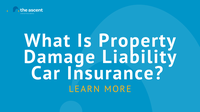 Property damage liability insurance is an important type of auto insurance coverage. It compensates when the insured damages the property of others. This guide to property damage liability insurance provides an overview of how this coverage works and why it is important.
What is property damage liability insurance?
Understanding liability coverage for property damage is a key part of any car insurance overview. This type of coverage provides protection to policyholders who cause a collision and damage property belonging to other people. He would pay for damage to another driver's car, for example. Or if a covered motorist hits a fence, lamp post or even a house, it would compensate the owner of that property.
Does auto insurance cover damage to private property?
When a policyholder wants to know more about liability auto insurance, a common question is whether property damage liability coverage pays for damage to private property.
Fortunately, the answer is yes. The cover applies in all circumstances where the policyholder damages the property of others, even on private property.
This means that if a driver causes an accident in a private parking lot, private driveway, private road, or on any other private property, the motorist's car insurance is still in effect. Damage to any property affected will be covered in these circumstances.
What exactly does property damage auto insurance cover?
Automobile property damage insurance covers the repair or replacement of any property damaged by the insured in a collision. It could cover the repair or replacement of:
Vehicles driven by other motorists that were damaged or destroyed when the covered insured caused an accident
Structures that the policyholder has damaged by crashing into them, such as houses, fences, power lines, bridges or commercial buildings
Property that a policyholder has damaged is covered up to the policy limits.
What is not covered by property damage liability insurance?
There are many things that property damage liability insurance does not cover. This type of policy will not pay for:
Damage to Covered Driver's Vehicle: A motorist would need collision coverage to ensure that their insurance would pay for their own vehicle.
Bodily Injury Caused by a Driver in a Collision: Personal injury liability insurance pays for medical expenses and lost wages when a covered driver causes an accident resulting in injury.
Damage in excess of coverage limits: If the policy has a limit of $5,000 and the total cost of property damage is $20,000, $15,000 of the damage will not be covered.
How much property damage liability insurance do I need?
It can be complicated to answer the question of how much auto insurance you need. But it is important.
In general, each state sets minimum coverage requirements for property damage liability. Drivers must purchase at least the minimum protection required. Failure to do so would be a violation of the law.
Motorists may want to purchase more property damage liability auto insurance than they are required to. Indeed, the limits are often very low in many states.
Motorists who don't have enough coverage to pay for the full repair or replacement of property they damage could find owners taking legal action against them personally. They may have to pay out of pocket for any loss that exceeds what the insurance covers.
What are the liability limits for property damage?
Property damage liability limits cap the amount of money an insurer will pay when a policyholder causes an accident and damages someone else's property. For example, if a driver has a limit of $25,000, the insurance company will only pay up to $25,000 in property damage.
Limits of Liability for Damages by State
Each state sets its own limits for the minimum amount of auto liability insurance that drivers must carry. Limits can be as low as $5,000 or as high as $25,000. The table below indicates the minimum coverage required.